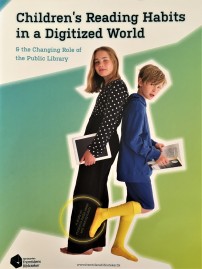 Children's Reading Habits in a Digitized World
As the largest supplier of leisure reading, the libraries have an immense potential in making a social difference by promoting children's motivation for reading. Studies show that reading literacy not only promotes reading ability, but also the general ability and desire for learning. New quantitative and qualitative knowledge will be developed in the field, which takes into account the digital development and children's changed media reality.
With more than 9.000 pupils from 3.th to 7th grade participating in the study it is the most extensive study on the subject. The goal is to actively collect knowledge and develop that can strengthen the libraries own practice in the field, in collaboration with the public schools. The project is conducted in collaboration with Copenhagen Libraries, National Centre for Reading and the Research Center Lærermiddel.dk
The project is supported by the Danish Agency for Culture and Palaces, Danish Library Association and EDITH OG GODTFRED KIRK CHRISTIANSENS FOND
Language: Danish
Read more about the study here.